1985
The Woods started in 1985 as "Davlins - Fine Crafted Gifts of Wood" store in an old mattress factory on the Minneapolis waterfront, which had been turned into an upscale mall. Our selection included handcrafted furniture and decor from individual artists all over the United States. We became known in the Twin Cities for our natural wood jewelry boxes, fancy kaleidoscopes, and three-dimensional wooden cars and carvings.
1987 - 1997
From there we grew to three stores in the Twin Cities area by 1987, and in 1997 we built a new concept store called "The Woods" in Maple Grove, Minnesota. For this new store, we expanded our merchandise selection beyond wood gifts to include pottery, candles, home accessories and more. The concept went over so well that we added the new merchandise selections to our store in Tamarack Village in Woodbury, Minnesota.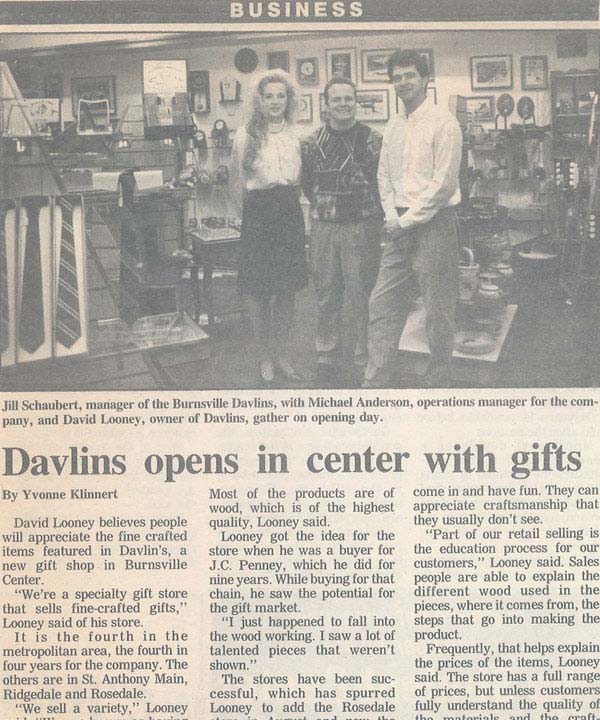 Community Services
In 1997, we began to hold free events for families in the area of our new stores. The annual "Holiday Walk in The Woods" with a visit from Santa Claus and his reindeer is our most popular event, followed by our yearly day with the Easter Bunny and his baby animal friends. In recent years our adult events have taken off, with Girls Night Out in October becoming a tradition for a fun night with "the girls!" No matter the event, we are thrilled to see the customers who return each year and touched that we've become part of many families' holiday traditions.
Maintaining strong ties with the communities that our stores are part of is important to us, so through the years we've contributed to several charity and community groups in our area, including: