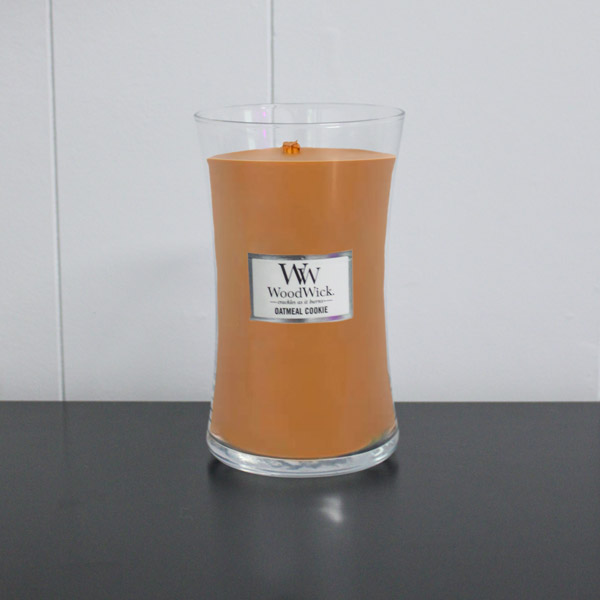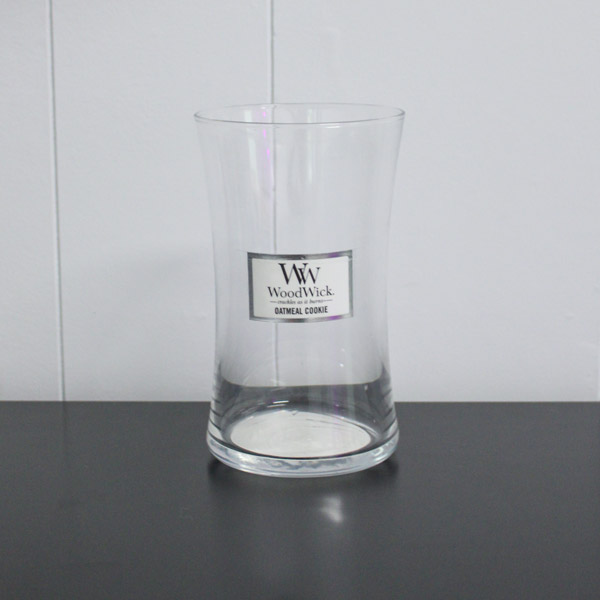 After your candle has been burned down to nothing – do you wish you could do something other than just throw the jar away? Maybe you clean the jar out to recycle it, but have that one cute jar you wish you knew how to repurpose instead?
Instead of getting rid of WoodWick candle jars once they are done – consider cleaning them out and using them as pots for houseplants! These cute jars can be the perfect accent with a little plant, or they can be the perfect temporary home while you propagate your favorite houseplants! Give baby plants as gifts without having to find pots that are cute and inexpensive or build up your jungle – the options are endless!
So, now you may be wondering – how do I transform this waxy candle jar into a new houseplant pot? Here's a step-by-step guide to walk you through it!
Buy and Use Your WoodWick Candle

Start by buying a WoodWick candle in whatever size jar you want for a pot and in a scent that you love!
Light the candle and use it over the course of the next few days, weeks, months – however long is needed to totally use up the candle.

Clean Your WoodWick Candle Jar

Once your candle is done, throw away the lid and peel off any stickers/labels that you don't want anymore.
Bring a pot of water to a boil.
Pour the boiling water into the jar (ideally in a sink or somewhere that spilling boiling water won't be an issue!).
Once the jar is filled with boiling water, you can do one of two things – watch the wax float up to the surface like the best smelling lava lamp you've ever seen or let it do its thing while you work on something else!
After an hour or so, check back in on the candle jar. The water will be cooled, allowing you to move the jar if needed.
Allow the candle to sit until the wax is hardened – once the wax is hard, you can remove it easily from the top of the jar!
Dump the water and examine the jar. If there's more wax, you may need to repeat the cleaning process. Otherwise, wash the jar with soap and water and move onto the next section!

Prepare Your WoodWick Jar for a Plant

Fill the bottom of the jar with pebbles, rocks, glass beads – anything that gives a space at the bottom for water to drain. This allows you to see when your plant has plenty of water and helps increase drainage.
Add soil to the jar.
Depending on the plant, you can pre-wet the soil, giving it a chance to fully drain for plants that require moist soil. Otherwise, if your plant of choice prefers drier soil, you are ready to plant!

Plant Your Houseplants

Go ahead and plant your houseplants! Then proceed with normal care as determined by your plant's needs.
Tag us on social media (@thewoodsgifts) when you post pictures of your perfect, new little pot and be sure to repeat the process any time you are in the market for a new planter for houseplants!
Whether you need a pot for propagating new plants, one for gifts or just need a small planter for a new plant – WoodWick candle jars are a great option! Enjoy your favorite scents and minimize waste by reusing candle jars!
With plenty of scents available, find the perfect option to make your home smell divine before repurposing your candle jar! View our entire online selection or visit us at our Maple Grove or Woodbury, MN location.